English Information– Jet Boating in Ishigaki Island –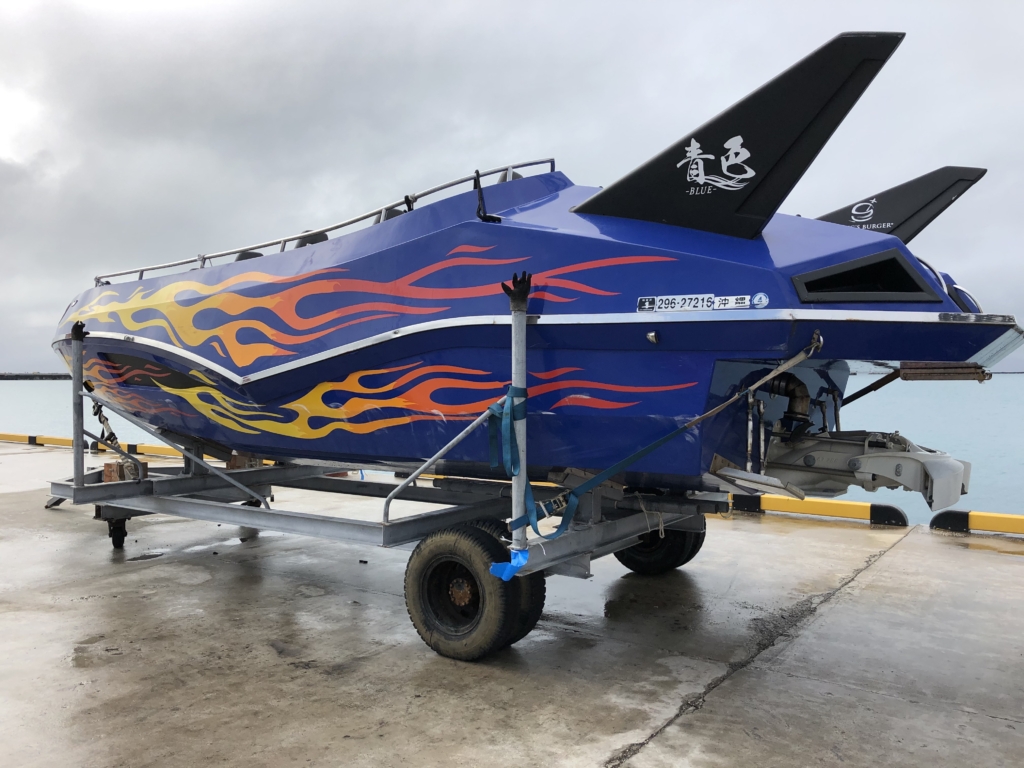 Jet Boating in now available in Ishigaki Island!
Powerboat Jet Cruise
It is an ultimate way of enjoying the beautiful nature of Ishigaki island with the unique combination of the power and the speed. Enjoy the velocity and the thrill of a lifetime!
Our expert driver takes you to the next level of riding experience like no other! Sit back and buckle yourself in and feel the acceleration!
There are only 3 jet boating available in Japan, and we are one of them. Our boat is a state-of-the-art and highly safe.
Opened in April 2020
Please contact us in advance during the winter seasons as the condition may not be suitable depending on the weather.
Booking starts 10 days in advance
You can book your seats 10 days in advance through telephone only. We may not be able to answer the phone while we are taking a tour, but we will get back to you if we have your incoming call history.

---
Meeting place
3-2-3 Hamasaki-cho, Ishigaki-shi, Okinawa 907-0013
Hamasaki Marina site
* There is no pick-up service. Meet us directly at the venue. Parking is available.

Find Toyoko Inn Ishigakijima Hotel as it is close to the meeting place.
Timetable (Meet us no later than 20 minutes before the riding time)
Tour Schedule
Meeting time
Depart
Return to port
1
8:30
9:00
10:00
It may be canceled depending on the season
2
10:00
10:30
11:30
All year round
3
11:30
12:00
13:00
It may be canceled depending on the season
4
13:00
13:30
14:30
All year round
5
14:30
15:00
16:00
All year round
6
16:30
17:00
18:00
Only for the guests who joined other activities
The tour takes about an hour.
---
Schedule
Meet at the venue> Departure > Move to the point and enjoy 15 min of cursing > Enjoy your thrilling time with action> Return to port
Enjoy about 60 mins of jet boating. The point may be different depending on the condition of the day.
---
Price
1 person 8800 yen including tax
---
You get splash of water. So, bring the towel and wear clothes that you can get wet. No need to bring anything, however, bring your rain jacket if you don't want to get wet. Also, the cheap raincoat is available on sale at the venue.
Bring your waterproof action camera, like GoPro to take a thrilling video!
You can also use selfie stick if you would like to take more exciting video.
For safety and enjoyment
Minimum height 90 cm or higher
Be healthy
【Precautions】
* Pregnant women
* Persons with severe chronic illness
* Those with a weak heart
* Those with a weak neck, back, etc.
The above customers cannot participate.
---
* Customers who are worried about seasickness are advised to take anti-motion sickness medicine before boarding.
* The tour may be canceled at the last minute of departure depending on the weather.
* Please keep your luggage as small as possible.
There is no place to store your luggage.
You are expected to get wet during the tour. So, we cannot guarantee your belongings will get wet or damaged.
---
Clothes
Wear the clothes and footwear that can get wet
If you have any concerns, please contact us in advance.